The Gibasis geniculate, often called the Tahitian bridal veil, likely got its common name because its leaf may reach lengths of up to three feet. The flowers are thus perfect for hanging baskets both outdoors and indoors.
The delicate white flowers of this plant typically bloom from spring until October. They have a lovely scent, and taking good care of the plant is essential if you enjoy seeing it bloom.
Here are some instructions on caring for the bridal veil plants, also known as Madagascar Jasmine or Stephanotis. 
Temperature
Bridal veil plants prefer warm, tropical climates. The ideal temperature range for the thermostat is between 50° and 70° Fahrenheit. Anything below 50° is unsuitable for the Tahitian bridal veil and is not advised. Cold temperatures will make it impossible for the plant to live. You likely won't want your house to be any colder than that when planting bridal veil!
It is advised to keep the Bridal Veil Plant inside for most of the year in all non-tropical areas. The plant may be kept outdoors, but only under ideal circumstances. The plant may be taken outside for a "vacation" in summer, but it needs to be put in a location shielded from direct sunlight. The leaves are readily scorched by direct sunshine.
Additionally, air ventilation is crucial for the bridal veil plant. Placing the veil plant next to a vent is not recommended to keep them warm or cool since doing so might harm the plants.
Plus, it would help if you watched out for any rapid temperature fluctuations since the bridal veil plant might not be able to handle them.
Sunlight
The bridal veil plant must be out of direct sunlight despite flourishing indoors and outdoors. Even for a short period of time, placing it in direct sunlight will cause the bridal veil plant's green leaves to become brown.
Thus, in the outdoors, be sure to put it in a partially shaded location, particularly during the warmest part of the day. Indirect light works best. If you'd rather keep the bridal veil plant inside, ensure it receives enough light by setting it up next to a window early in the day while it's not too hot outside.
After a few hours, relocate the bridal veil plant to a location out of direct sunlight, but take care to keep it away from heaters and air conditioners since even very low temperatures can cause the foliage to turn brown.
How To Water a Bridal Veil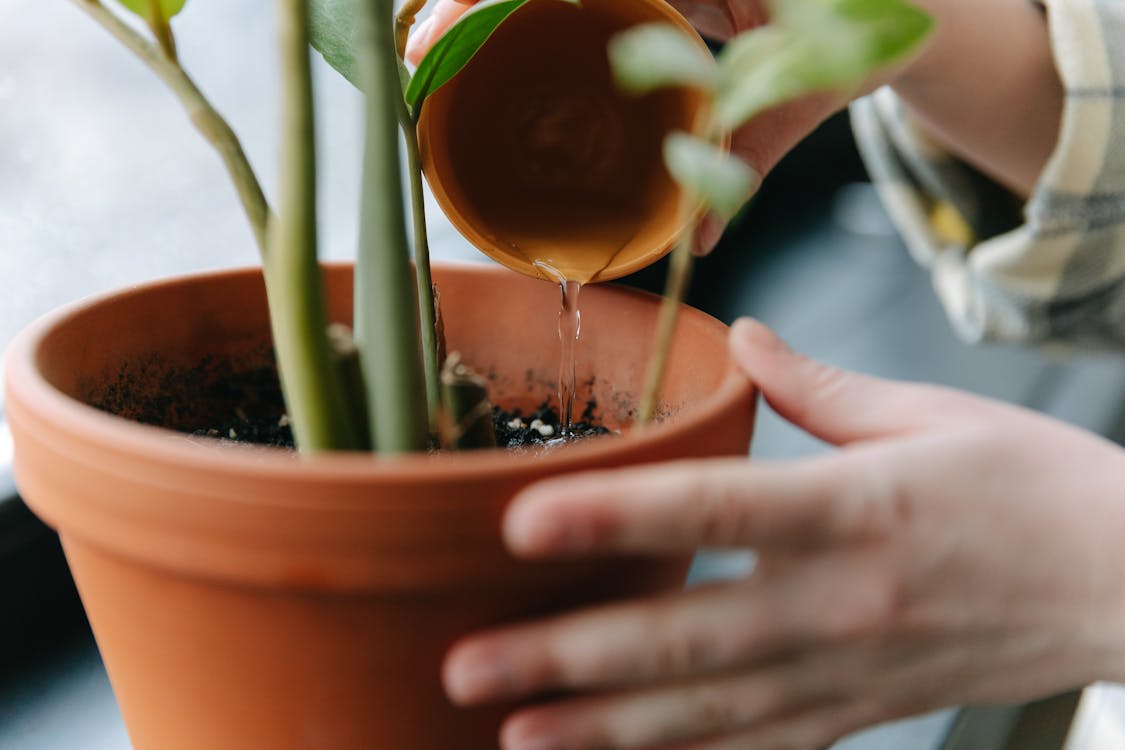 The kind of soil and the humidity, temperature, and any environmental precipitation, all have an impact on how often you should water the bridal veil plant. When you see the soil becoming dry, water your bridal veil plants. You should water the bridal veil plant whenever the top inch of the soil feels dry since you don't want to dry it thoroughly.
Potting Soil
Use a lightweight, premium, organic potting mixture for the bridal veil plant. Avoid raising these tropical plants in a heavy, rich, outdoor soil mix since the bridal veil plant usually thrives in very nutrient-poor potting soil. Getting light potting soil with fluffy or sandy loam can be a good idea too. Switch it for fresh soil after a few years of use, and you will have a healthy flowering houseplant.
Containers or Planters
When choosing a pot, the most crucial consideration is whether or not it has appropriate drainage holes. The bridal veil plant demands adequate drainage since it cannot tolerate excessive moisture. The most frequent use for the bridal veil plant is as hanging plants, which presents a challenge since these pots sometimes lack drainage holes.
The roots of bridal veil plants might rot.  If you don't have drainage holes in the pot, it is nearly impossible to prevent root rot. If the extra water has nowhere to go, it will sit and ruin the lovely plant.
Humidity
A relatively humid atmosphere is ideal for the growth of the bridal veil plant. They can handle dry air better than other tropical species, but it is essential to provide some humidity during a dry winter. A humidifier is the most efficient technique to increase humidity levels.
How To Defend Against Pests and Diseases
Even if you use new soil and make every effort to keep the pots clean as you move the Tahitian bridal veil to larger ones, you can subsequently find a few fungus spores. As they travel via the air, fungus spores may spread from infected plants.
Eliminate the leaves' brown spots as soon as you see them to stop the spread of illnesses. Keep the Tahitian bridal veil plant from getting too much water since fungus and bacteria love moist environments.
In terms of the pests, if the Tahitian bridal veil plant is outside, they will probably attack it. You can actively get rid of them in this situation by hand-picking. You may also utilize insecticidal soap diluted in water. Ensure that the ratio is 2.5:5 tablespoons per gallon.
The whole plant should be sprayed, including the top and bottom of the leaves. The Tahitian bridal veil plant must then be left in a shady place to let the insecticidal soap dry. Based on the size of the pest infestation, repeat the procedure once or twice a week.
How To Prune the Bridal Veil
There is no set procedure for trimming the bridal veil plant that produces wedding veils. Usually, you will follow your preferences; if it becomes too long for you to tolerate, pruning is required. Nevertheless, remember that pruning promotes growth; therefore, do not wait too long before pruning.
Additionally, it aids in shaping the plant for a more attractive appearance. Use clean, sharp gardening shears to remove long branches, weak sections, or dead or diseased pieces that prevent the plant from flowering.
To avoid spreading pathogens to other potted plants, it is essential to use clean gardening shears. Wipe the shears even after the pruning operation is complete. A cotton swab soaked in 70% isopropyl alcohol may be used to eliminate fungal spores, and use soapy, warm water to keep the shears clean and ready for use.
Final Thoughts
Maintaning the tahitian bridal veil plant is quite easy once you know that you need moderate heat, well drained soil, overly moist conditions, and no excess water. With proper conditions, you are sure to see the tiny white flowers in the next flowering season.