Often referred to as the new pets of the modern era, nearly 66% of the American population has invested in at least one indoor plant for their homes.  
Known and highly valued for their undeniable beauty, aesthetic appeal, and refreshing aura, indoor plants have also been proven to help people relax, release anxiety, and be more productive and present at work.  
One house plant that has created quite a reputation and global demand for itself is the Ruby Necklace plant.  
What Is the Ruby Necklace Plant?
Characterized by its ruby red color, the Othonna Capensis, popularly known as the Ruby Necklace plant, is a one-of-a-kind plant that looks like a string of rubies hanging out of a pot.  
Although the Ruby Necklace succulent is named after its distinct crimson color and reddish-purple stem, it does not always resemble a string of rubies at all times. 
Instead, this fantastic indoor succulent usually has bright or deep green thin oval-shaped leaves that tend to turn a bright ruby red when under stress.  
As an example, when the Ruby Necklace plant is placed under the direct sun, it only takes a few moments for the plant's green nodes to look like a gorgeous string of rubies shining under the sunlight. 
Moreover, apart from its beauty and ability to change color, which allows it to appear more alive than most other plants, the Ruby Necklace succulent is equally demanded for its low-maintenance care routine. 
Adapted to surviving dry soil, this indoor plant's incredible string of rubies can retain its appearance in drought-like conditions. 
These unique attributes allow it to grow super-fast, display a range of varying deep and vibrant red shades and grow gorgeous daisy-like flowers almost all year round.  
So, if you travel a lot or do not want to worry about caring for your indoor plants, the Ruby Necklace succulent is the perfect plant for you.  
However, this doesn't mean you can just abandon your plant. It needs a bit of care and attention to ensure it's happy and healthy. 
Read on to learn more about the Ruby Necklace plant's simple care routine and what you need to know during the growing season. 
Moreover, we will also discuss evident signs of a poorly kept or sick Ruby Necklace succulent, along with the different kinds of fungal diseases and pests that might affect your plant. 
How to Care for a Ruby Necklace Plant 
To ensure your ruby plant grows quickly, especially during the growing season, follow the care tips and practices below. 
Set a Watering Schedule 
As mentioned above, the bean-shaped leaves of the Ruby Necklace plant do not need much to survive. In fact, the plant should be grown in completely dry soil.  
Hence, to ensure your Ruby Necklace succulent stays healthy, water your plant only once every five to seven days.   
The goal is to make the soil barely moist so it thoroughly dries and drains before the next watering. However, what happens when you overwater your plant? 
Just like other plants and most succulents, the Ruby Necklace plant will also only absorb the amount of water its root cells can absorb.
When you water your plant more than you need to, the plant will just stop absorbing water.  
All the excess water accumulates inside the plant's shallow pot, making the soil moist.   
Since wet soil conditions attract and create the ideal medium for fungal growth, the chances of root rot and premature plant death increase. 
What is Root Rot? 
Whenever the soil of a succulent remains wet for longer than it needs to be, airborne fungal spores get the opportunity to settle, feed, and reproduce.  
If nothing is done to drain the soil or treat the plants, the fungal growth spreads across the plant's soil until it fully covers the roots' surface.  
When this happens, not only is root growth affected and inhibited, but a majority of the roots begin to rot and die. If nothing is done on time, the plant dies of thirst as the roots aren't able to absorb water.   
Without proper water uptake, your Ruby Necklace plant's thin oval-shaped leaves will lose their freshness and fleshy plumpness. Moreover, the bright crimson nodes will also dry up and fall off after being unable to produce food through photosynthesis.   
Sunlight Exposure 
Although the Ruby Necklace plant can survive outdoors and indoors, keeping it healthy and growing under indirect light can be a lot more challenging.  
The trailing succulents' string of rubies tends to grow best and the fastest when exposed to direct sunlight.  
The bright light will let your indoor planter display and mesmerize you with its bright ruby-red color and reddish purple stem, but the heat from the full sun will help dry the soil. 
Hence, to provide your string of rubies as much light as possible, place it outside under direct sunlight or put its pot near a sun-facing window sill to give it six to eight hours of sunlight. 
However, if you live in a region where cloud cover is frequent or extreme winter temperatures result in cold and drafty windows, you should place your string of rubies under an infrared or solar lamp. 
This will give them enough time to photosynthesize, ensuring they live longer.  
Humidity Levels 
As mentioned above, moist soil or lack of porous soil can affect a Ruby Necklace plant's root health and survivability. Therefore, it is important to keep the atmospheric humidity in check, especially when the string of rubies is grown indoors during the growing season. 
If the environment is too humid, it will take longer for the soil to dry up fully. Since high humidity levels will dampen the soil, watering it once a week might be too much for the necklace plant and its fleshy leaves.  
If you live in a humid area, improve the ventilation in your home or water your plant less. 
Moreover, you can also help the soil dry out on time by potting your string of rubies in a shallow pot containing porous soil with a sufficient and wide enough drainage hole.   
Furthermore, if you live in a region where the external atmosphere is quite dry and the humidity levels are low, your ruby necklace plant will transpire more water. 
In such conditions, you should water the trailing succulents twice in seven days or invest in an indoor humidifier.  
Warmer Temperatures  
The Ruby Necklace plant grows best in warm temperatures. If you live in a warmer region, your typical household temperature should be alright to keep the string of rubies red and alive. 
However, in temperatures below 10° Fahrenheit, your plant's growth will be affected, and it will usually maintain a bright or deep green color.  
In such conditions, refrain from placing your succulent against cold or drafty windows, and instead, invest in a solar lamp to give your planter sufficient bright light and the needed heat. 
Fertilizer Requirements  
Like most succulents, the Ruby Necklace plant is also not a heavy feeder. Hence, excessive and frequent fertilization is not required. 
However, to facilitate fast growth during peak growing seasons, using a low-nitrogen fertilizer can help your string of rubies. 
Pot Drainage   
Excessively wet soil can lead to root damage and premature plant death. To counter this, make sure the pot has an adequate drainage hole.  
Repotting  
The Ruby Necklace plant remains true to its low-maintenance reputation by requiring a single repotting in two to three years. 
Moreover, whenever it is time to repot your string of rubies, remember to increase the size of the pot, and ensure that it has more drainage holes.  
Furthermore, ensuring that the new potting mix is fresh and nutritious can also further help improve your ruby plant's appearance and chances of survival. 
Propagation by Stem Cuttings 
At times, the Necklace plant's string of rubies begins outgrowing its pot. When this happens, you can repot the planter into a larger pot or propagate new identical Ruby Necklace plants using stem cuttings.  
Before taking the succulent cuttings, ensure the stem has at least three to four individual leaves or nodes. Then plant the stem cuttings into a shallow tray containing damp yet well-drained soil. 
Once the cuttings begin to form roots, replant each stem into its own pot and provide it the exact watering and sunlight requirements it needs.  
Signs Your Indoor Potted Ruby Necklace Succulent is Sick 
Although the Ruby Necklace plant is well-adapted to surviving and thriving in many different conditions, extended periods of neglect and improper care can cause the plant to die.  
Some of the common signs of affected plants are as follows: 
Signs of Fungal Diseases 
The oval-shaped leaves of the string of rubies are dry and fall off

The leaves have also lost their usual green pigment 

The stem of the ruby plant is dry or curled inwards 

Any water provided to the plant continues to accumulate inside the pot and is not absorbed as expected 
Signs of Plant Pests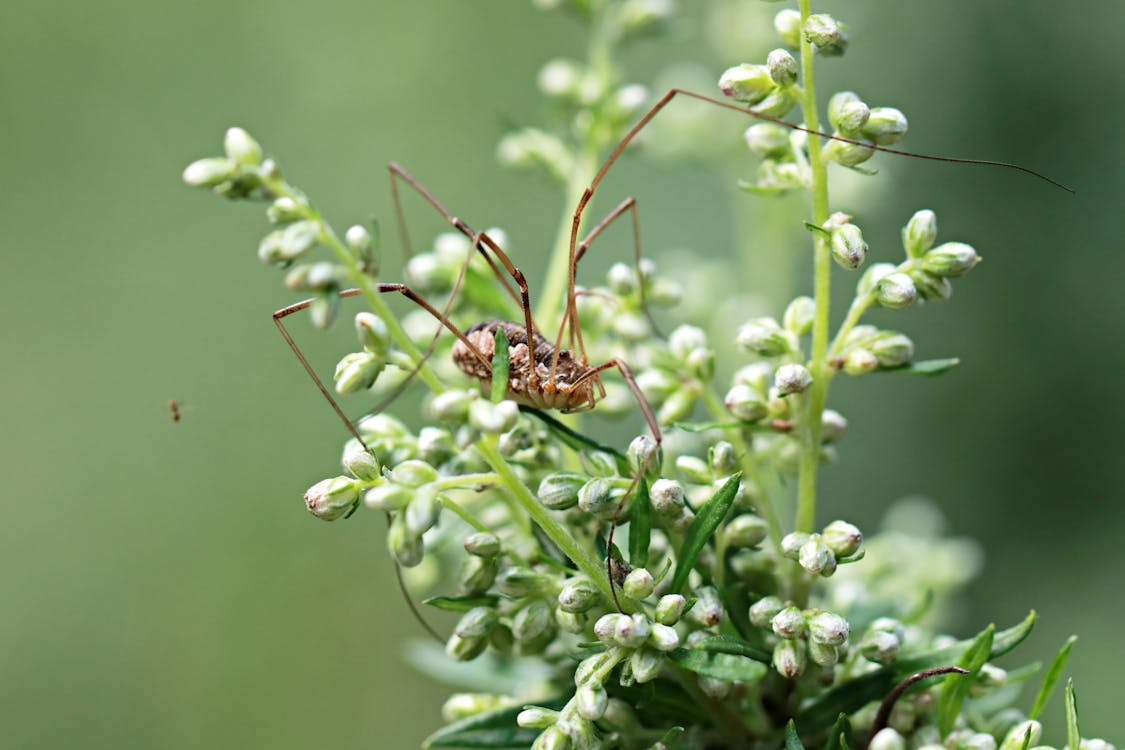 You can spot small gnats or winged bugs in the Ruby Necklace succulent soil 

Small black or white bugs are present on the Ruby Necklace's bean-shaped leaves and stem 

The trailing succulent has stopped growing 

The plant no longer looks fresh and firm 
Factors that Contribute to Your Ruby Red Trailing Succulent's Poor Health   
Excess watering 

Root rot 

Improper ventilation 

Poor drainage pot or clogged drainage holes 

Lack of sufficiently-draining soil 

Neighboring plants are infected by fungal growth or infested with plant pests 
How to Treat or Cure a Weak or Sick Indoor Potted Ruby Necklace Succulent  
If you have ever tried to treat affected plants before, you probably know that the process can be pretty tricky, especially if you don't know the root cause. 
However, if you identify the main cause behind the sickness, you can treat the plant quickly. 
If you suspect a fungal disease, remove the entire plant from its pot and wash its roots under running water. Follow the process by cutting off any dead or decayed root matter and replanting the succulent into a fresh and clean batch of potting mix. 
Furthermore, if you notice the presence of pests early on, add some pesticide to the plant and use insecticidal soap. However, repotting is the better option if the pests have gotten into the soil.   
Final Thoughts 
Characterized by its unique ability to turn a bright ruby red color, the Ruby Necklace plant is a stunning trailing succulent that can survive in drought-like conditions. 
All you need to do is provide the plant with as much light as possible from the direct sun and water it weekly.