Moses in a cradle plant (also known as tradescantia spathacea) is an easy-to-care-for houseplant thrives in moderate to low light. Your Moses in a cradle plant can thrive for many years with the proper care!
Why is it called Moses in a Cradle?
Many plants have unusual names, but the "Moses in a Cradle" plant may be one of the most unique. It gets its name from its unique appearance – when it dries up and dies back, the outer leaves curl inwards, resembling an infant in a cradle.
The scientific name, Tradescantia spathacea, also reveals some clues about the plant's origins. "Tradescantia" refers to John Tradescant, a 17th-century botanist who brought this plant back from Jamaica. "Spathacea" refers to the shape of its leaves, resembling spatulas or spoons.
The Moses in a Cradle plant is related to other common houseplants such as spiderwort and wandering jew. So next time you see this ornamental foliage plant with its unusual name, think of the historical journey that led to its discovery.
How to Care for Moses in a Cradle?
Let's cover everything you need to know about caring for your Moses in a cradle plant, from watering and fertilizing to propagation and repotting.
So keep reading for helpful tips on how to keep your beloved tradescantia spathacea healthy and happy!
Water
Caring for Moses in a cradle is a simple but essential task. Just like any other plant, it needs to be watered regularly. However, due to its unique cradle-shaped leaves and shallow roots, extra care must be taken to ensure the plant's health.
It's best to avoid using tap water, as it can contain chemical additives that can harm the plant. Instead, use distilled or filtered water to prevent the buildup of harmful substances on the cradle lily's delicate roots.
Watch out for any dead or decaying roots – they should be pruned immediately to keep the plant healthy and promote new root growth. By following these steps, you'll have a happy and flourishing Moses in a cradle in no time.
Humidity and Light
The boat lily, also known as the Moses plant, is a lovely addition to any indoor space. However, proper care is essential to ensure its continued health and growth. One crucial factor to consider is humidity.
These plants thrive in humid environments and can be easily affected by dry air. Using a humidity tray or regularly misting the leaves can help increase this plant's humidity levels.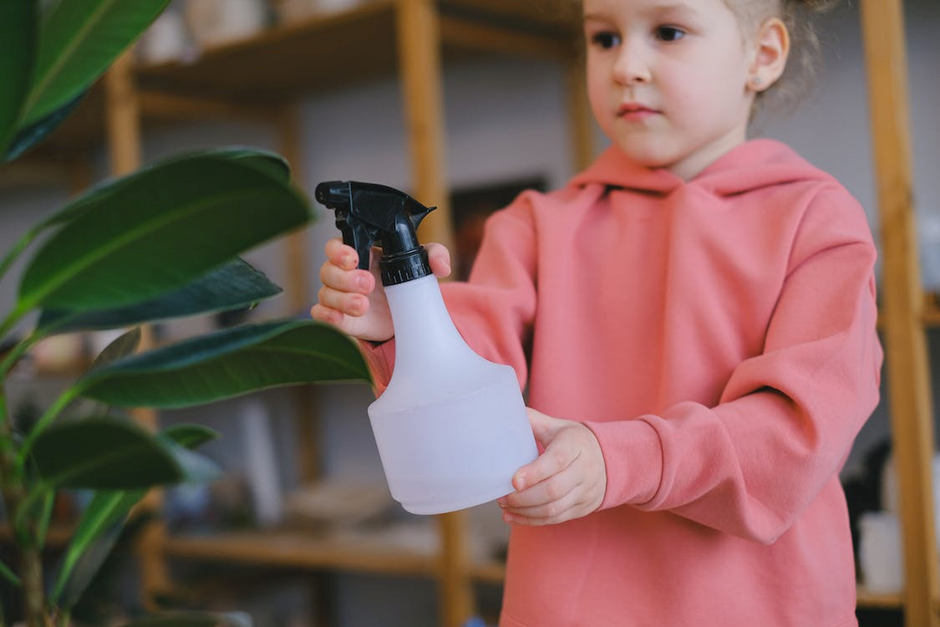 Regarding light, boat lilies typically prefer bright indirect light but should not be in direct sunlight. Prolonged exposure to very bright light can cause their leaves to fade or burn.
With the right combination of humidity and light, your boat lily will surely thrive and bring beauty to your home.
Soil and Fertilizer
If you are lucky enough to have a Moses plant, also known as Tradescantia Spathacea, there are a few things to keep in mind for optimal growth. This striking plant is a relatively fast-growing plant with purple and green foliage.
In terms of soil, it prefers a light mix, such as peat moss or a standard potting mix. Fertilizer should be used sparingly, as the Moses in a Cradle may experience brown leaf tips if over-fertilized.
As for water, it's important to keep the soil moist but not soggy – aim to water thoroughly once or twice a week. Following these guidelines will ensure that your Moses in a Cradle stays happy and thriving!
Propagating
Here are two ways to propagate Moses in the cradle:
Root Division
Have you ever seen a rosette of oyster plants sitting atop long, slender stems? Such an arrangement can be achieved through the propagation technique of root division, using the plant commonly known as the Moses plant.
This succulent member of the Tradescantia genus is particularly well-suited for root division because it produces offsets or young plants at the mother plant's base.
By carefully digging up the offsets and separating them from the primary roots, each can be replanted to grow into a healthy individual oyster plant. Root division also helps to encourage new growth and can even rejuvenate an older, less vigorous mother plant.
So why not try it with your own Moses in a Cradle? Keep an eye out for those little offsets and propagate away!
Stem Cuttings
The Moses in the Cradle, also known as cradle lily, is a beautiful and striking addition to any indoor or outdoor garden. Its stark white, oyster-shaped foliage adds dimension and texture to flower beds and displays.
Fortunately, propagating this plant through stem cuttings is easy and efficient. Cut a healthy stem with at least two sets of leaves just below the node (the little bump where the leaves meet the stem).
Remove any lower sets of leaves and place the cutting in moist soil or water. Within weeks, roots will form, creating a new oyster plant for your garden.
Take note that these plants may take several weeks to show signs of growth, so be patient with your new additions!
Repotting
As its name suggests, the Moses in the cradle is a cradle-shaped plant with distinctive purple and green cylindrical leaves. While it may initially seem like a delicate specimen, these plants can handle being repotted every few years.
When selecting a new pot, make sure it has drainage holes to prevent root rot. As for the soil, a well-draining succulent mix or cactus mix will do the trick.
The next step is to remove the plant from its current pot, gently shaking off excess soil before placing it into its new home.
If desired, now is also an opportunity to propagate more cradle plants by cutting a stem and planting it in a pot filled with the succulent mix. With these easy steps, your Moses in the cradle will continue to thrive for years to come.
Ideal Pot Size
Like many plants, cradle plants' ideal pot size can depend on several factors, including the plant's current size and growth rate. When the plant becomes overcrowded in its current container and starts to outgrow it, it is often a sign that it's time for a new plant pot.
When repotting Moses in the Cradle, choose a container with drainage holes and add fresh soil mix. This will give the plant enough space to continue growing and ensure proper soil moisture levels for a healthy plant.
However, beware of going too big – an overly large pot can lead to overwatering and root rot. When considering the perfect pot size for your Moses in the Cradle, strike a balance between giving it room to grow and ensuring its roots have enough space to thrive.
Moses in the Cradle Plant: Pests & Diseases
Moses in the Cradle Plant is a beautiful, whimsical addition to any garden. It's also one of the most susceptible plants to pests and diseases.
Pests
Here are some of the most common pest problems and how to treat them.
Mealy Bugs
If you have a Moses in the Cradle plant, you've encountered mealy bugs. These tiny white insects can often be found hiding in the plant pot or on the underside of leaves.
Luckily, you can easily control these pests by removing them manually with a cotton swab dipped in rubbing alcohol.
Spider Mites
Watch out for spider mites if you have an indoor Moses plant, also known as Moses in a boat! These tiny pests can quickly infest your plants and suck the life out of their leaves.
Thankfully, there are a few options for getting rid of these unwelcome visitors. One is to blast them off with a strong stream of water or wipe them off with an insecticidal soap solution. For severe infestations, it may be necessary to use an insecticide such as neem oil.
Diseases
Here are some of the most common diseases and how to treat them.
Slow Growth
The Moses in the cradle is a unique and eye-catching addition to any garden, with its trailing vines and mottled purple leaves. However, these attractive plants can be susceptible to certain diseases, including slow growth.
One potential cause of this issue is direct sunlight. Although Moses in the cradle plants thrives in bright light, avoid direct sunlight as it can burn their leaves and inhibit their growth.
Fortunately, preventative measures such as keeping Moses in the cradle plants in indirect sunlight and ensuring they have proper drainage can help keep them healthy and promote vigorous growth.
No Blooming
Have you ever seen Moses in the cradle with no blooms? Chances are, it may suffer from a common disease called Moses in the cradle decline.
This disease affects Moses and other indoor plants, causing yellowing and wilting of dark green leaves and a complete lack of blooms.
The best prevention method is to thoroughly but infrequently water Moses in the cradle, allowing for adequate drainage and avoiding moisture on the leaves.
Our Final Thoughts
The Moses in the cradle plant is an easy-care plant that does best in well-draining soils with moderate watering. It's essential to keep an eye on the soil moisture and not let the plant dry out. Be sure to protect it from frost as well.
With a little TLC, your Moses in the cradle will thrive and bring you enjoyment for many years!