The Pink Panther is a super cute plant native to the tropical regions of South America.
Whether you're looking for a super cute colorful ground cover or a tough addition to your garden, the Pink Panther is sure to add style and function to any space.
Common Problems And Diseases Associated With Pink Panther Plant
Root Rot
The Callisia repens pink panther plant makes a beautiful and vibrant addition to any home. However, this popular houseplant is susceptible to root rot, a condition caused by too much moisture.
Allowing the moist soil to dry out between watering is vital to prevent root rot. Moist soil can also allow fungus and bacterial growth. The best way to do this is to water thoroughly and let the excess water drain away. You can add a drainage hole in the pot. Be sure to empty any drainage tray or saucer, so the roots do not sit in water.
Fungal Diseases
Callisia pink panther is susceptible to fungal diseases like powdery mildew.
Powdery mildew is a type of fungus that affects the leaves, causing them to turn white or grey. To prevent powdery mildew, it is essential to water the Pink Panther Plant at the base of the plant rather than from above.
Pest Infestation
Although Callisia repens pink panther is relatively low-maintenance, the plant is susceptible to pests such as aphids, scale insects, and whiteflies. Aphids, mealybugs, and spider mites are all attracted to the sweet nectar produced by the plant's flowers. These pests can damage the solid green stems, leading to yellowing and stunted growth. For prevention, ensure that the plant is not in soggy soil.
Lack of Pruning
If Pink Panther Plants are not pruned properly, the stems will become long and thin, and the plant will produce fewer flowers. You can cut the top few inches of the plant.
Pink Panther Plants should be pruned in late winter or early spring before new growth begins. All old flowers and stems should be cut back to about a few inches.
Frost Damage
Frost damage is a common problem for pink panther plants. When the temperature drops below freezing, the water in the plant's cells begins to freeze. This can cause the cell walls to rupture, leading to dehydration and eventual death.
To help prevent frost damage, choosing a planting site protected from cold winds is essential. Cover the plant with a protective layer of mulch or fabric before a cold snap.
Once the threat of frost has passed, remove any damaged leaves or stems to encourage new growth.
Light Requirements
All plants need sunlight to grow, but some require more than others. Pink Panther plants, for example, need a minimum of six hours of bright indirect sunlight per day.
The leaves of a Pink Panther plant will turn pale and develop brown spots if it is not getting enough bright light. If you think your Pink Panther plant is not getting enough sunlight, try moving it to a brighter spot in your home or yard.
Rootbounding
The Pink Panther Plant is a beautiful and popular houseplant known for its baby pink leaves. However, it is also susceptible to root bounding. This occurs when the plant's roots become so tightly packed that they prevent it from taking up water and nutrients.
As a result, the plant leaves will turn yellow and wilted.
If you suspect that your Pink Panther Plant is rootbound, you can try gently repotting it into a larger pot. This will give the roots more room to spread out and improve the plant's health.
Drought Issues
Pink Panther plants are succulent. These plants are characterized by their thick, fleshy leaves, which store water to survive in dry conditions. While pink panther plants resist drought, they are not immune to it.
If these plants do not receive enough water, their leaves will shrink and turn brown. In extreme cases, the plant may die. Therefore, it is essential to water pink panther plants regularly, especially during drought.
Short Lived
Despite its beauty, the Pink Panther Plant is short-lived and typically only lasts two to three years. After blooming, the plant will produce seed pods that contain hundreds of tiny seeds. Once the seeds are ripe, they will be scattered by birds and animals, which will help to propagate the species.
Although the Pink Panther Plant is short-lived, it is easy to care for and makes a beautiful addition to any home or garden.
Are Pink Panther Plants Poisonous To Humans?
Despite its stunning appearance, the Pink Panther Plant is poisonous to humans if ingested. The plant contains a toxic substance called lycorine, which can cause nausea, vomiting, and diarrhea if consumed in large quantities.
Are Pink Panther Plants Poisonous to Pets?
Many pet owners may not realize that the delicate leaves of tradescantia pink panther is poisonous to cats and dogs. The toxic substance in the plant can cause vomiting, diarrhea, and skin irritation. In severe cases, it may even lead to seizures or heart arrhythmias.
If you suspect your pet has ingested a Panther Plant, seek medical attention immediately. While the plant is not deadly, it can still cause serious illness in pets.
Growing Tips For Your Pink Lady Plant
Check The Soil Regularly
The Pink Panther plant is a beautiful and unique addition to any home, but like all plants, it requires some care and attention to stay healthy.
One of the most important things you can do for your turtle vine plant is to check the soil regularly. The roots of the plant are susceptible, and even a tiny change in the moisture or nutrient levels of the soil can cause problems. Check the soil at least once a week, and adjust your watering and fertilizing accordingly. Ensure that the plant is in well-draining soil.
Keep Temperature In Check
The Pink Panther Plant is a tropical plant that originates from Central and South America. As a result, it prefers warm temperatures and high humidity levels. If your plant's room temperature drops below 60 degrees Fahrenheit, your plant may suffer from cold damage.
Symptoms of cold damage include browning leaves, wilting, and slowed growth. In severe cases, the plant may die. Keep your Pink Panther Plant in a warm, well-ventilated room to prevent cold damage. If the temperature does drop below 60 degrees Fahrenheit, move your plant to a warmer location.
Provide High-Quality Fertilizer
A high-quality, well-balanced fertilizer will provide your plant's nutrients to stay strong and produce new growth. When choosing a fertilizer, be sure to select one that is suitable for indoor plants. Without enough nutrients, the plant will become yellow and stunted.
No Direct SunLight
The tradescantia pink panther requires special care to thrive. One of the most important things to remember is to avoid placing the plant in direct sunlight. The leaves are delicate and can easily be scorched by the direct sun rays. Instead, try to find a spot that gets bright, indirect light.
Another thing to keep in mind is that the pink panther plant is tropical and prefers warm temperatures. If your home is cooler, you may need to provide additional heat with a grow light or space heater.
Potting & Repotting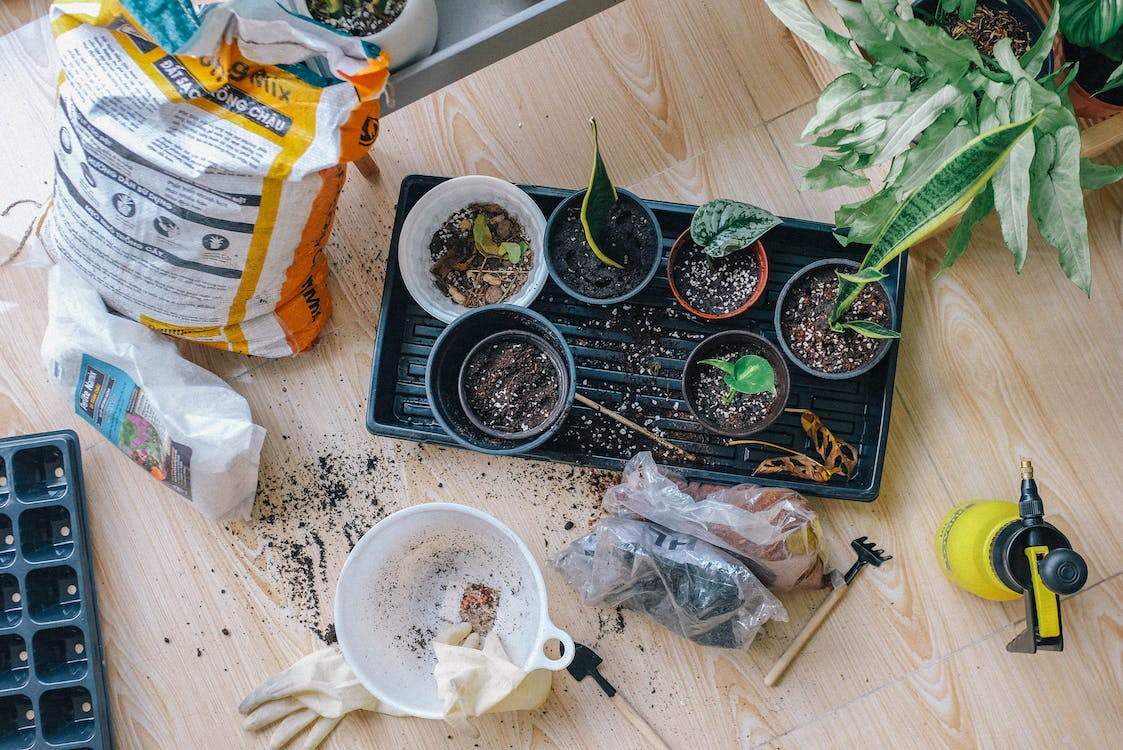 One crucial task is repotting when taking care of your Pink Panther Plant. Do not keep the plant in the same pot for longer. Pink panther plants should be repotted every two or three years, preferably in the springtime. This helps refresh the potting mix and gives the plant more room to grow.
When repotting, use a well-draining potting mix and a pot that is only one size larger than the current pot.
Do Not Over Water Or Underwater
Overwatering can cause the roots to rot, while under watering can cause the leaves to turn yellow and drop off. The best way to water a Pink Panther plant is to allow the top inch of soil to dry out between watering.
The amount of water a Callisia repens plant needs will depend on its growing climate. These plants generally prefer warm, humid weather and must be watered regularly to prevent the leaves from drying.
If you are unsure whether your plant needs water, simply check the soil. If it is dry to the touch, then it is time to give your plant a drink.
Wrapping Up!
The pink panther plant is prized for its unique appearance, but it can also be tricky to care for. Fortunately, we've put together some tips to help you keep your plant healthy—for years of enjoyment.