Rhaphidophora hayi, or the shingle plant, is a climbing plant that shoots up aerial roots from its leaf nodes. These aerial roots tend to dig into whatever they can.
There are several features that set this plant apart from the rest of the family. For one, it gives the effect of lush green roof shingles because its foliage has a habit of growing flat against the support.
Closely related to philodendron, pothos, and monstera, the shingle plant is quite a sought-after aroid.
What Else Can a Shingle Plant Climb?
Watching a shingle plant climb is undeniably one of the coolest things about getting it. As you see the leaves grow bigger every time they climb something, you can't help but feel enthralled.
However, no matter how much your plant loves climbing, it won't be able to do it on every surface. Hence, here are a few ideas for what your plant can climb:
Cork
Moss pole
Wood fence post
Wood board
Trees
Driftwood
Tree branches
What Is the Origin of the Rhaphidophora Hayi Plant?
Originally from the gorgeous tropics of Queensland, Asia, and New Guinea the Rhaphidophora hayi plant is native to lowland and wet rainforests.
Unfortunately, subtropical Australia's lowland rainforest has gradually been destroyed, but at the same time, it has also been placed under the surveillance of Australia's national environment law.
Growing a Rhaphidophora Hayi Plant
How Much Light Does It Need?
Now that we know that the shingle plant hails from rainforests with plenty of tree cover and canopies, we can conclude a few things about its growth. For one, the plant requires plenty of bright, indirect light.
However, it's also important to understand that despite being hardy, the leaves of the shingle plant can burn if you overexpose them to direct sunlight.
Furthermore, the plant can also do well with artificial light and tolerate low-light conditions. This means you can also grow it indoors.
How Much Water Does It Need?
Understanding what nutrients it needs is a significant part of your shingle plant care. While keeping it moist is important, you do not want to overwater it.
Water your rhaphidophora hayi at least thrice a week when the weather is warm. At the same time, you want to give it enough break between the watering sessions to avoid root rot.
Furthermore, don't forget that it's a climbing plant which means that you will also have to mist it every few days. However, during the winter season, keep the watering sessions minimal.
Watering and misting it once a week should be enough. You'll know you've overwatered it if you notice the leaves turning yellow.
How Much Soil Does It Need?
As with every other plant, the shingle plant also does best in airy, well-draining, and rich soil. It's a vital part of your regular rhaphidophora hayi care routine.
Hence, your best bet would be an aroid mixture, as it holds moisture without getting heavy and soggy. On the other hand, dense soil that doesn't have proper drainage will certainly result in root rot.
You can also make a few amendments with fine moss if your shingle plant is placed in indoor houseplant soil. It helps the soil in retaining moisture without becoming too dense or heavy. Learn to take some cues from the soil that the plant comes in.
Some people also wonder why the rhaphidophora hayi plant even needs soil when it's a climbing plant. Well, it only becomes epiphytic after reaching a tree.
Before that, all of its water and nutrients come from the soil. It's also possible to skip the soil completely and grow the plant on a moss board. This provides the plant with all essential nutrients without having to plant it in a pot.
What Type of Temperature And Humidity Does It Need?
Since the shingle plant (rhaphidophora) is native to Australia, it prefers warmth over cold throughout the year.
The goal should be to ensure that the temperature doesn't go below or above 60 to 78 degrees Fahrenheit. Anything that precedes the stated limits can stunt its growth and even kill it.
Most shingle plants that are kept inside don't face issues with temperature. This is because most homes have temperatures within that range. Growing them outdoors can be a bit tricky. You want to make sure to move them inside as soon as the winter months arrive.
For the summer months, you want to ensure that your shingle plants are receiving adequate light. Another important thing you should know about rhaphidophora hayi care is that these plants just can't get enough humidity. Since they come from wet, lowland rainforests, they prefer around 70% humidity, if not more.
Exposing them to extremely dry air can hinder their growth. Furthermore, misting the plant won't help if the air around it isn't humid enough. A good way of bringing the humidity up is by adding water to a pebble tray and grouping it with other plants.
You can also place a humidifier close to the plants or place your shingle plant inside a greenhouse cabinet to keep the moisture levels up.
How to Mount Shingling Plants?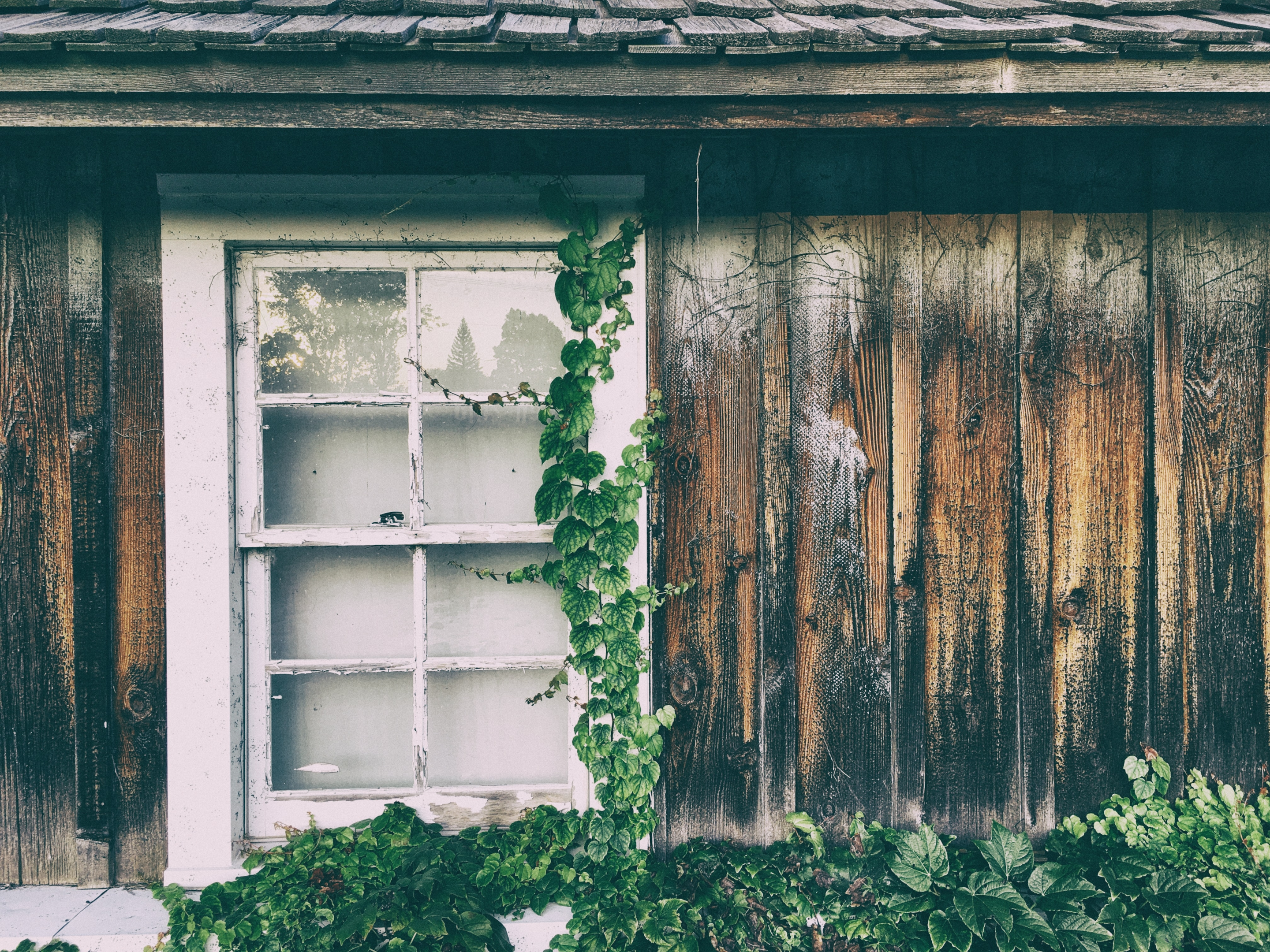 Mounting the plant can be tricky, especially if you've never done it before. However, once you've found your way around it, it shouldn't be that hard.
It's important to keep in mind that these plants will always find a way to climb since that's what they are born to do.
All they need on the way is a little assistance. Here are some ways you can mount shingling plants.
Use a Moss Board or Pole
This approach requires using a diluted fertilizer in water to mist the moss, giving it more nutrients.
Additionally, you want to use vinyl plant tape or a soft string to tie the plant onto the board. Over time, you will notice it grabbing on and not requiring support from the string.
Use a Wooden Board
For this approach, you must grab a piece of thin wood from a craft store and just let it climb. You want to apply the same method here to secure the plant to the board so it can start grabbing onto it without needing constant support.
Use a Tree Branch
This has to be the closest to what your rhaphidophora hayi plant is already accustomed to. These plants use tree branches in their ideal environment. However, you want to ensure sanding the branch is smooth first.
It's very likely that at some point, your rhaphidophora hayi will outgrow the board, particularly because it grows so rapidly. At this point, you can try wrapping it around the board instead of making way for it to climb up.
You can also move the plant to one side of the board and use a way to hold it in place a few months later.
This way, you can ensure that it will take a while for the plant to outgrow this board. However, you want to stain and seal it first to prevent rot.
How to Fertilize Your Rhaphidophora Hayi
Fertilizing the plant is one of the most important aspects of your shingle plant care. While using fertilizer is important, it shouldn't be overdone.
Using too much can kill it in the blink of an eye. The right kind of fertilizer should be a typical indoor liquid blend with a fertilizer ratio of 10-10-10.
You can try diluting the solution to half the suggested strength at least once a month after watering the plant.
If you're using a moss board to grow your shingle plant, put in the fertilizer while watering your rhaphidophora hayi. Avoid using any fertilizer during winter because your plant will most likely be dormant.
How to Pot and Repot Your Rhaphidophora Hayi Plant
Ideally, you want to ensure that your rhaphidophora repotting is done every one to two years. The right time to repot is when the pot is filled up by the roots and is growing out of the drainage holes.
However, you only want to go up a pot size. If there is more than enough soil proportionate to the root ball, it may end up doing more harm than good.
Furthermore, choose a pot with good weight because the board of your shingle plant requirements can be heavy on the top. Using glazed pots will help you retain the moisture from the soil, but you want to make sure that it has drainage holes.
Replacing the board will require you to separate the roots carefully from the old board before securing the vine to the fresh one.
It's wise to swap the potting soil, too, because you don't want the old mix to hinder your plant's growth in any way. The old mix is also more likely to be depleted after a few years.
Propagation of a Rhaphidophora Hayi Plant
The best part about this procedure is that even a beginner can perform it. To propagate a shingle plant with stem cutting, you should start by cutting a 4 to 6-inch stem with some leaves and several nodes.
Then, you want to strip off every leaf except the ones on the top before setting the stem in some moist soil. Make sure to have a node buried.
As a part of your regular shingle plant care, you want to maintain a humid and warm atmosphere at all times. You can also achieve this by casing the pot using a plastic bag.
Only a few weeks later, you will notice the formation of new roots. Once you notice the growth getting steadier, it's time to get rid of the bag and provide your plant with a flat, small surface to allow it to climb.
To facilitate the growth of a new stem, you can half bury a leaf and watch it climb in the same fashion.
What Problems Can You Face With Rhaphidophora Hayi
There are a bunch of problems you can face with a shingle plant. However, the good news is that you can prevent most of them just with routine maintenance.
If you notice the leaves indicating a problem, make sure to take action immediately. Look out for signs of damage or discoloration, be sure.
Infestation of Pests 
It is possible to stop the attack before it even occurs because most pests are regular indoor menaces. You can start by spraying your plant intermittently with an insecticidal soap solution or neem oil.
This should be enough to keep most bugs away, but frequent inspection is necessary to ensure that nothing is under the surface.
Mealybugs tend to go under the leaves and appear as tiny cotton tufts. On the other hand, scales appear as tiny brown bumps on the stems or under the leaves. Rubbing alcohol is the best way to get rid of them.
Spider mites tend to leave small yellow spots on the shingle plant leaves, and aphids are usually nestled between the board and the leaves. They're usually easy to get rid of in the sink or shower.
Possible Diseases 
The best way to avoid the onset of diseases is by ensuring that you're watering your plant well. However, it won't eliminate the danger completely.
If you suspect that your plant has developed a fungal or bacterial disease, act right away before it gets out of hand and ends up killing your plant.
On the other hand, if you overwater it, rhaphidophora hayi may be affected by root rot. If it gets severe, the roots of your plant may struggle with breathing in the saturated soil.
You may also begin noticing the black and smelly roots, yellowing leaves, and soft stems. The plant may get a leaf spot when the foliage remains wet for too long.
As a result, leaves develop brown or black spots that end up killing them if they spread too far. As soon as you notice signs of infection, cut the infected parts and replant your shingle plant in fresh soil.
Problems with Growth
It's possible to encounter growth problems if you haven't taken good care of your rhaphidophora hayi. Fortunately, you can clear most problems and expect the sick plant to heal.
Typically, yellowing leaves can mean that your plant is exposed to stress from repotting or low light levels. It may also indicate that you've used too much or inadequate fertilizer. Furthermore, it can hint towards the problem of underwatering or overwatering.
If you notice the leaves curling too much, it may be a sign of low humidity or exposure to cold drafts. If the edges are burned, your rhaphidophora hayi may be getting much sun.
Is Rhaphidophora Hayi Toxic?
The shingle plant can be poisonous for animals and humans alike. This is mainly due to the calcium oxalate raphides found in every part of the plant. Due to high levels of toxicity, you must keep it far from pets and children at all costs.
Fortunately, in most cases, humans only suffer from mild cases of irritation. In severe cases, the toxicity may cause a rash, so you want to wear gloves whenever you're handling it.
Children are easily intrigued by the appearance of shingle plants and so they may try grabbing a leaf. Due to the stinging sensation right after they grab it, they may not take more than a bite but if they end up ingesting it, rinse their mouth with water immediately.
Then, apply something chilly and soothing to treat the local pain. If they do end up developing swollen airways, take them to an emergency room right away.
However, for animals, ingesting the plant can be fatal. Dogs, cats, and rabbits can suffer significant internal damage if they aren't treated immediately. Raphides are extremely harmful to your pets, so you want to keep them at a safe distance at all times.
Wrapping Up!
Shingle plants can be a wonderful addition to your home, but only if you maintain them properly. Everything should be as close to the plant's natural environment as possible, from the temperature to humidity.
Furthermore, exposing them to bright light and ensuring that the soil is well-fertilized can do wonders to facilitate the plant's optimal growth. All in all, growing a rhaphidophora hayi plant should well be worth it under the right kind of care.