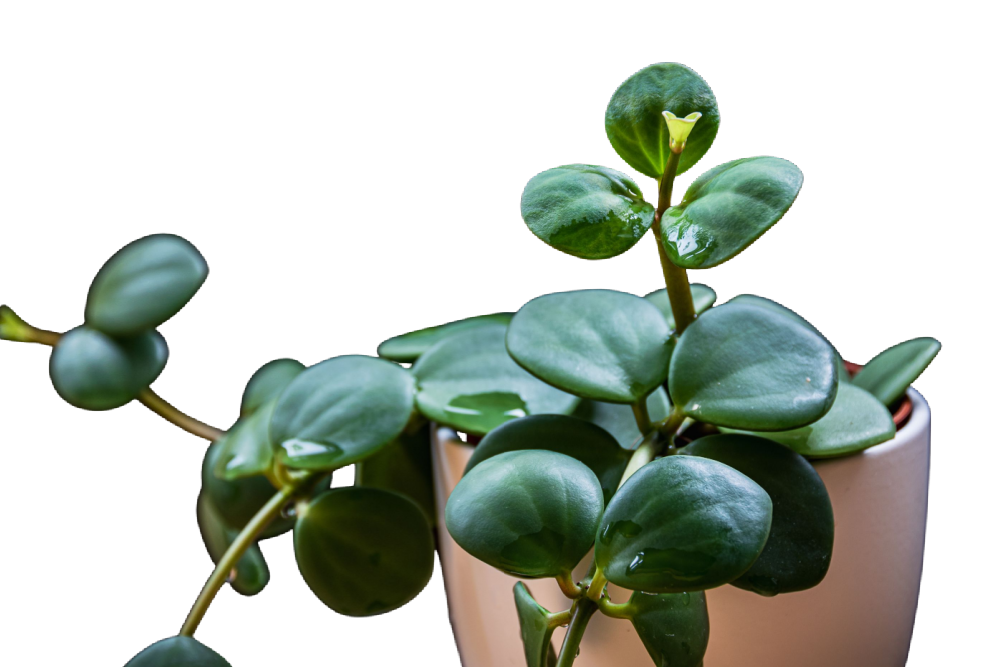 The beautiful Peperomia Hope is a hybrid cultivar of the popular houseplant species Peperomia deppeana and Peperomia quadrifolia. They are low-growing vining epiphytes having little green spherical leaves on thin stems.
About the Plant
Gardeners who want to cultivate Peperomia Hope will first have to overcome the difficulty of recognizing the plant. This plant looks a lot like its relatives.
Similar to Peperomia Tetraphylla, this plant's leaves are clustered in fours along the stem. The popular Watermelon Peperomia is very similar to this plant in terms of leaf venation, or the presence of light, rectangular stripes running down the leaves.
The tiny, spherical leaves are similar to Peperomia Quadrangularis. Therefore, it's not always easy to understand the plant for outsiders. If you're considering growing Peperomia Hope, it's crucial that you understand its preferred and avoided environments. The genus's distribution spans the tropical regions of Central and South America.
Peperomia Hope Plant Care
Follow the instructions given below to help your plant thrive:
Light Requirements
You must position your Peperomia hope plant near a south or west-facing window. If you live in the United States, you must consider placing your plant about a meter away from the window. These gorgeous disc-like leaves can become dull and washed out in appearance if the plant is placed in plenty of bright light; therefore, a bright setting out of direct light is preferable.
Relative Humidity and Temperature Requirements
The peperomia plant does best in a neutral environment because it cannot tolerate either extremely high or low temperatures. The optimal temperature range is between around 65 and 80 degrees Fahrenheit. This tropical plant grows well in moderately humid conditions. You can keep a humidifier or pebble tray beside your hand to encourage healthy development.
Peperomia Hope can be grown outside all year. However, you must bring your plant indoors during winter to keep it out of the cold.
Tending to a Peperomia Hope plant in colder countries might be challenging. Despite claims that it can survive temperatures as low as 55 degrees Fahrenheit, not many plant parents have had any luck growing this tropical plant in cold weather.
The first sign of frost is fatal for the fleshy plant. Moreover, it should be protected from draughts caused by fans and heaters. They are quite vulnerable to sudden shifts in temperature.
The plant might also experience stress if the temperature remains above 86 degrees Fahrenheit. The sun and heat can damage plants; therefore, it's important to provide shade and water often if you reside in a hot area.
Humidity Requirements
Peperomia Hope can handle various humidity levels. This plant's genus is originally from rain woods; therefore, it thrives in damp conditions. Remember that Peperomia Hope can survive in drier environments. You require 40 to 50 percent humidity levels to help your plant thrive. Use a humidifier or pebble tray filled with water to create ideal conditions.
Be careful not to let the leaves sit in water for too long, even if the humidity is high; this can cause rot and disease. Proper maintenance for Peperomia Hope requires high humidity and adequate air circulation to ward off illness.
Development and Enlargement
Peperomia hope is the best option among houseplants for novice plant parents. It requires little maintenance and can handle being ignored occasionally. Although it can reach a height of 12 inches and a width of 8 inches, this plant is relatively compact. It is so little makes that it is ideal for use in miniature gardens on desks and shelves. Moreover, there is no need to worry about Peperomia hope taking over your garden because it doesn't spread very quickly.
Blossoming
The flowers of Peperomia Hope are hardly noticeable, but the foliage is rather beautiful. It can flower at any time of year and thrives in a wide range of environments. Their attractiveness also makes them ideal for a terrarium or window box.
Ideal Soil
Use well-drained, rich soil when cultivating peperomia Hope plants. You can also get potting soil that combines peat moss with coarse sand, perlite, or gravel for your indoor plants. You can also use lightweight organic material that helps in water retention. However, the inorganic material permits the extra water to drain freely, protecting the roots from decay.
Peperomia Hope can be grown in succulent potting soil. Make your own peperomia soil by combining two parts of the standard potting mix: perlite and one part of horticultural sand. This potting soil blend is perfect for peperomia plants since it drains quickly and has a high porosity. The optimal potting mix for peperomias drains quickly after being watered and does not remain soggy for too long.
Cultivation
Some helpful ideas for cultivating peperomias are as follows:
Make sure to pick a pot that will let the soil dry up quickly by selecting a terracotta or unglazed clay container. Plants kept in plastic or glazed containers retain moisture for longer periods of time.
Choose a pot with drainage holes. Water should never collect in the bottom of the container.
If you want a compact peperomia Hope, you need to know when to water it based on the soil's moisture content. Soil moisture is affected by factors such as humidity, temperature, and pot type.
Watering Requirements
You can see why watering is so important for your Hope to thrive. Like a camel, the leaves of this Peperomia can store more water than the leaves of most other tropical plants. It has an incredibly frail and shallow root system.
Drainage is your best friend inside or outside of a terrarium. You can use drainage holes at the bottom of the container or a removable false bottom. An indoor plant requires a soak and dry watering cycle; therefore, you should water it only when the soil feels dry.
Water until it drains into the tray below, then empty it. Avoid adding too much water at once when growing terrestrially in a terrarium because it will be difficult to drain off later.
Pruning
You should prune your Peperomia Hope houseplant every few months. Remove diseased or otherwise unproductive branches to stimulate new growth and denser foliage. Carry out the pruning process in early spring before it begins to develop actively.
The trailing stems of peperomia 'Hope' can reach a length of 18 inches with proper care. Cut off new leaves as they emerge to encourage new development on the stem leaves. The result will be a stunning indoor plant with trailing stems that can be used as a decorative accent.
Propagation
Stem Cutting
The easiest approach to get a fresh peperomia hope plant is to cut off a stem. Anything — water, soil, moss—could do.
You should have at least a couple of leaf pairs on the cutting. If necessary, take off the lowest leaves.
Keep the leaves out of the liquid.
Change the water every few weeks and track the growth. New roots will form. You may even see a new plant emerge from the water. It can be transplanted into soil, but only if the soil is kept moist for a few weeks to prevent shock.
Plant the stem cutting straight in the soil for propagation. Maintain high moisture and humidity level in the soil until you feel a tug while gently pulling on the cutting.
Single-Leaf Cutting
You can easily propagate Peperomia plants from a single leaf cutting. Check if the petiole, or the part of the leaf that connects to the stem, is undamaged. Start cultivating new plants from leaf cuttings in the soil. Though time-consuming, the benefits are substantial.
Common Problems with Peperomia Hope Plant
The following are the common problems you might encounter with your plant:
Pests
You shouldn't have too much trouble with pests and diseases on your peperomia. Diseases and pests are much less likely to attack a strong plant. Your plant will be safe if you provide it with adequate light and humidity and be vigilant with your watering episodes.
However, over-watering and exposure to dry air or soil can be harmful to your plant. You might have to overcome the infestations of mealybugs, scales, and spider mites. Therefore, it's important to keep an eye on your plant at all times, especially the underside of its leaves, where problems often begin.
If you see pests over or under the leaves, use insecticidal soap, or a cotton swab dipped in rubbing alcohol to dab the plant clean. Repeat the process for some days to get lasting results. It may take a while for the bugs to disappear completely.
Lifeless Leaves
Lifeless leaves are such a turn-off for a plant parent. If you cultivate Peperomia Hope, you must be working on it for its many shades of green. However, if the color fades and the plant starts wilting, all your efforts will go in vain.
Lack of proper lighting might turn your breathing plants into lifeless creatures. Make sure the pot is in good light by placing it somewhere near a window.
Rapid Loss of Leaves
The leaves of your Peperomia Hope will turn brown and fall off if the plant is subjected to cold draught. Put the plant indoors immediately to provide it with the required warmth.
Root Rot
If the soil around the plant's base is wet and crumbling away, it's a sign of root rot that has to be addressed right away. Ensure to regulate your soil and irrigation regimen to ensure better plant health. If the plant is large and has multiple branches, remove the healthy ones and repot them in a sterile, airy mix.
Brown Leaves
Spreading dark dots indicate a fungal infection caused by leaf overwatering. Stop watering the leaves from above and remove the infected one immediately. Place the plant in an area with plenty of fresh air.
Yellow Leaves
Leaves turning yellow is a common symptom of nutritional deficiency in plants. You can increase its NPK levels by applying a light, balanced fertilizer for a few weeks. You can also opt for regular sprinkling with rainwater. If your plant has reached its maturity, remove the infected leaves and repot the healthy ones using high-quality, slow-release organic manure.
Things to Remember
Peperomia Hope's succulent leaves and stems require regular watering.
Maintain good drainage to prevent water accumulation in the soil.
Add organic matter to the soil while potting.
Avoid watering the plant's leaves directly.
Peperomia Hope likes bright light but not full sun.
Fertilize using a balanced liquid fertilizer diluted to three or four times its original strength during the growing season.
Keep the roots of your Peperomia Hope plant dry by growing it in a terra cotta container.
Try using neem oil or other natural insecticides to avoid pest infestations.
Final Thoughts
The Peperomia Hope is a must-have plant for those living in apartments or tight quarters. It can be used in different settings because of its compact growth pattern. You can grow this plant in the kitchen, the bathroom, or on a windowsill; it will look great. The vivid green leaves, arranged in a clover shape, always liven up the room.